You asked and Gina has answered!
Gina will be squeezing a national tour into her schedule, in between showrunning, writing and playing Kemi, Abishola's best friend on her sitcom Bob hearts Abishola, which is now in it's 4th season on CBS, and has already been picked up for season 5!!!!
New dates are being added, but so far she will be visiting the following cities with her new show, The Woman King of Comedy.
GO GET YOUR TICKETS!!
June 24, 2023, at Bell House, Brooklyn, New York
https://www.eventbrite.com/e/gina-yashere-the-woman-king-of-comedy-tickets-524952335567
July 8, 2023, at Thalia Hall, Chicago
https://www.ticketweb.com/event/gina-yashere-the-woman-king-thalia-hall-tickets/12879825
July 14 & 15th at the Imrov Comedy Club, Washington DC
https://dcimprov-com.seatengine.com/events/72874
July 22, 2023, Majestic Theatre, Detroit
https://www.majesticdetroit.com/event/12883555/gina-yashere-the-woman-king-of-comedy/
August 5, 2023, at Alberta Rose Theatre, Portland
https://www.etix.com/ticket/p/7995246/gina-yasherethe-woman-king-of-comedy-portland-alberta-rose-theatre

And while you're here, why don't you pick up a copy of her memoir, Cack-Handed which is now out on worldwide release!! The reviews have been outstanding...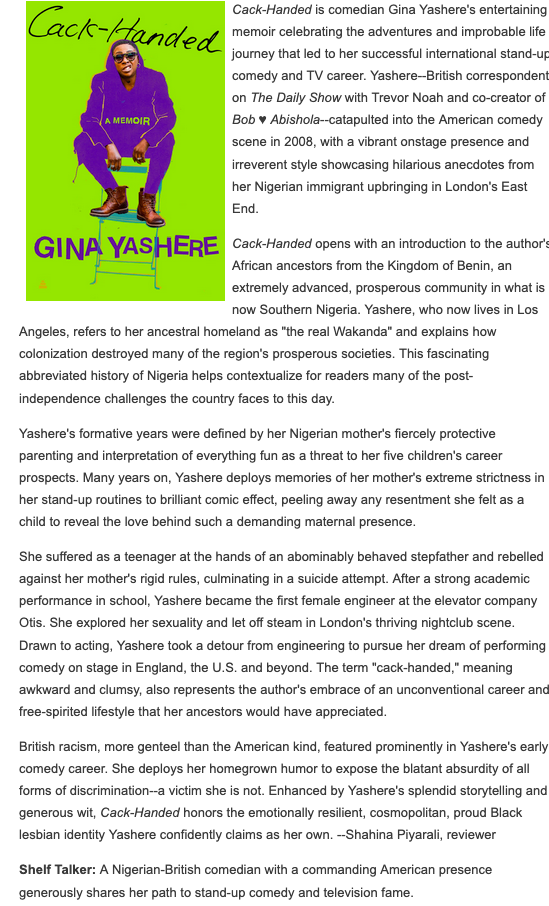 You can order the book from Amazon US, Amazon UK, Barnes & Noble, Books a Million ,and many more!
Other retailers selling Cackhanded can be found here
Gina also currently has 3 stand up specials streaming on Netflix!
She is episode 2 of The Standups Season 2, & two of her previous one hour specials, Skinny B*tch & Laughing To America are also available for viewing on the platform. 
Here is one of the rave reviews she's received..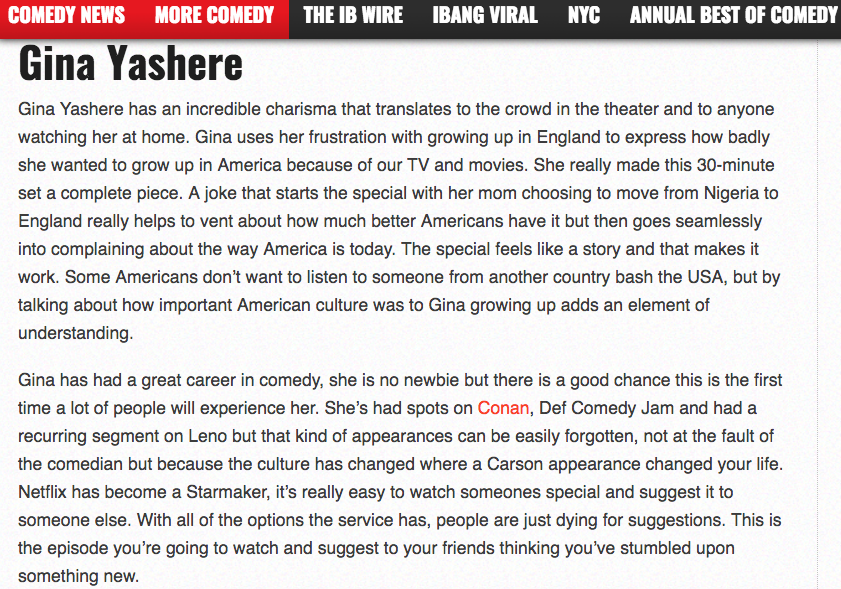 Another of her one hour Stand up Specials, Ticking Boxes is still available to buy.
It was shot at the iconic Brixton O2 Academy, London in front of over 2000 fans.
Go download it HERE.